We are here to please.

Value Case Part 3!


We have been receiving great feedback on our super value cases. So here you go,
Super Value Case Part 3.
You are certainly welcome to purchase the case as shown (save $8) but you can also shop these wines individually.
Have a great day! Stay safe.
Matt, Jonette, Mark, Brian, Kiel & Monique
Click here for our Super Value Case
Custom Mixed Case of the 12 bottles below
$100.00/case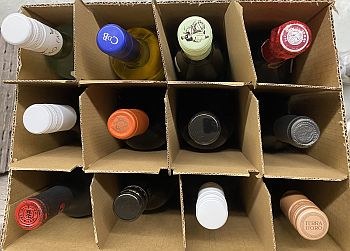 (Pricing does not include sales tax or shipping )
Caparzo

2018 Toscana

Sangiovese

Fresh flavors of wild strawberries, blackberries and floral notes and hints of spice on the juicy finish.

Kermit Lynch

2018

Cotes du Rhone

WOW! The 2017 version of this wines was an enormous success. Amazingly this 2018 is even better!

Hard to believe you can get this quality for under $10

.

$9.99
$9.99







Non Vintage France

Blanc de Blancs
Sparkling

Fresh and refined with flavors of white peach, aproicot and hints of brioche on the finish.


An incredible value Sparkling wine!





Sauvignon Blanc



Intensely aromatic and lively with flavors of passion fruit and guava. The palate is vibrant and zingy with fruit.




$7.99
$9.99




The Walking Dead

2017 California

Red Blend

If you love the fruit-forward, jammy style of red wine, then this is for you! Super smooth with super ripe strawberry and raspberry flavors. A Red Blend of Malbec, Merlot, Cabernet Sauvignon and Petite Verdot.
All this flavor at this crazy price!

Sean Minor

2018 Central Coast
4B

Chardonnay

New vintage of this customer favorite!
No surprise here that a Sean Minor wine would

over-deliver at an extremely reasonable price!

This Chardonnay is medium-bodied with aromas of white peach and pear. One of the best under $10 Chardonnays you will ever enjoy.

$6.99
$8.99







2017 South Australia

Cabernet Sauvignon

Smooth and rich, generously loaded with mulberries, black cherries and spice on the palate.

2019 Casablanca Valley
RESERVA

Sauvignon Blanc

90 Wine Spectator

Vibrant, yet juicy with pear, gooseberry and subtle citrus notes that lead to fresh herbs on the lingering finish.

$8.99
$9.99







2019 Amador County

Rose

A simply delicious and flavorful dry Rose from Amador. Stock up on this beauty for Spring and Summer sipping!

2019 Languedoc
HB

Picpoul

Bright, crisp and refreshing with mineral, white flower and subtle citrus notes on the finish.

$9.99
$9.99







Non Vintage Portugal

Vinho Verde

You will not find a more refreshing wine than this for bang for the buck enjoyment! This is off the charts happiness in a glass. Has a light spritz as most Vinho Verdes do and under 11% alcohol makes this so gulpable! Crisp and lively with pear, apple and highlighted with fresh herbal notes on the clean finish. Serve well-chilled. A ridiculous value white wine from Portugal that is so incredibly thirst-quenching!

2018 Portugal

Red blend

Super smooth and easy-drinking! A modern expression of a Portuguese red blend.
40% Touriga Nacional, 30% Alicante Bouschet and 30% Baga. If you love Conundrum Red, Quest, Rare Black Blend, or Tobin James Cacheflo, this is one to try! A wonderful value!

$6.99
$8.99