TOP 12 for August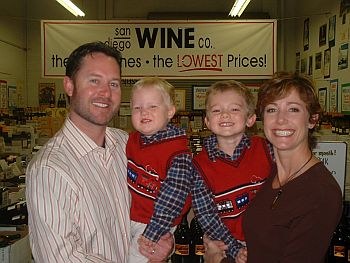 (2005, First Day of Our business)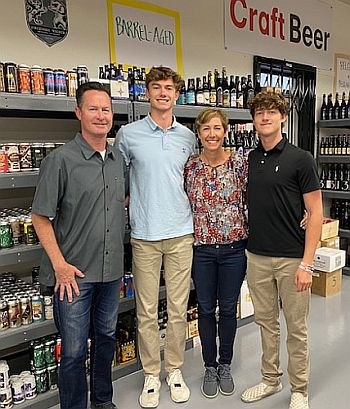 (2022)

Welcome to August! Incredible how the month's and years fly by! As many of you begin to get your kids ready to return to school, we are taking our youngest to College in a few weeks.
Yes, we join the Empty Nestor's Club! This will definitely be a memorable August for us.
Really, this is just a reminder that we are so thankful for your business over the 17 years and we are incredibly grateful that we have been your "go to" wine and craft beer shop.
Have a great August!
See you soon!
Cheers,
Matt, Jonette, Mark, Brian, Monique & Jordyn
Click for our TOP 12 Case
(Includes 1 bottle of each of the below wines)
$256 /case


(Pricing does not include sales tax or shipping )
LTL


By Upchurch

2018 Red Mountain

Cabernet Sauvignon

93 Jeb Dunnuck
92 Vinous
92 Wine Enthusiast
91 Wine Advocate

Loads of red and black fruits with a touch
of dark chocolate. "One of the best buys
in all of Washington."
~Brian's Top Pick~

Anza


By Diego Magana

2020 Rioja

Tempranillo

94 Wine Advocate

There are tender and subtle aromas in the 2020 Anza, yes, flowers, berries and herbs but also something reminiscent of very soft marzipan. The wine is incredibly elegant and subtle. Give it a good hour of air or hold onto it for a little bit and it will shine!

$27.99
$24.99







2018 Santa Maria Valley

Pinot Noir

93 Jeb Dunnuck

One of the pioneers in premium Santa Barbara Pinot Noir, they continue to make great wine year in and year out.
A bouquet of red cherry, forest floor and a
hint of spice. Elegant texture, medium-body and a sense of purity all round out the lengthy finish.
~Matt's Top Pick~

Malbec

93 Wine Advocate

From Wine Advocate: The 2018 Malbec has some 8% Cabernet Franc in the blend. It's a serious, subtle and mineral Malbec, with some austerity and shy varietal aromas of violets and wild herbs. The palate is medium-bodied with terrific texture and very clean and focused flavors, and it has the chalky texture from the limestone-rich soils.


$29.99
$19.99




2020 Rias Baixas

Albarino

This is the flagship wine from this producer.
It is a fantastic example of what Albarino is all about. True to its varietal character, it combines freshness and complexity thanks to an ageing process on the lees and the contribution of a short stay in oak foudres.
A wine with a lot of personality that is great on its own or a great choice for the appetizer course.
~Monique's Top Pick~

2020 Vezelay
LA CHANTELAINE

White Burgundy

ORGANIC

This White Burgundy is coming from the best terroir in Vezelay, a tiny appellation most don't know much about. It is more like a Chablis than Cote d'Or. Mouth-coating, deep, earthy with a hint of minerality.
Imported by Kermit Lynch.

$19.99
$28.99







2019 Maule Valley
COTA 500

Cabernet Sauvignon

91 Wine Advocate

Excellent Chilean Cabernet Value!
From Wine Advocate: This is spicy and herbal, with freshness and red fruit, with very good acidity, impressive for a year like 2019. It's austere and medium-bodied, with very fine tannins and a long, dry finish.

2020 Anjou

Cabernet Franc

ORGANIC

One of the best Cabernet Franc values we have discovered this year! For those who love that earthy, leathery taste do not miss this great value!
This 100% Cabernet Franc has bright red fruit, white pepper and minerality on the long, generous finish.

$15.99
$13.99







2020 Sicily

Insolia

Insolia grapes are manually selected in the Nordic microclimate of Ficuzza, Cusumano's largest vineyard, located in Northern Sicily. Lively and intense, this wine shows floral apple and citrus notes. Along with lemon zest on the mineral finish.
~Mark's Top Pick~

2019 Columbia Valley
READERS

Merlot

We have said many times that the best domestic Merlot values come from Washington State. This is yet another tremendous example of that statement!

Opens up with dark fruit, spice and black tea-mingling with juicy plum and berry.

Soft tannins lead to a huge, long finish.

~Jordyn's Top Pick~

$13.99
$17.99







2018 Edna Valley

Pinot Noir

93 Wine Enthusiast

$35 at the winery

This is $35 at the winery and can't be found at many retail establishments. Really terrific quality as it has great overall balance.
Black raspberry, wild plum and notes of pepper with savory herbs and minerality on the finish.

2018 Douro

Vinho Tinto

Portugal continues to make under the radar

great value red blends.

If you have not had a Portuguese red recently then give this a shot! Full-bodied with dark fruit mingling with balsamic notes. Complete with round tannins on the persistent finish.

$23.99
$17.99